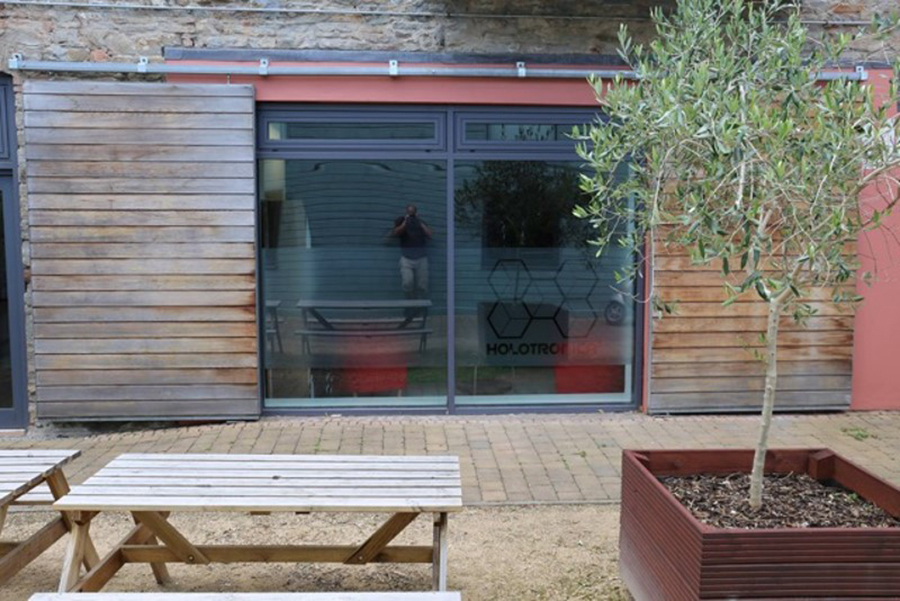 Hello and welcome,
My name is Stuart Warren-Hill, I am an AV Producer, Visual Artist, VJ, Electronic Musician, Inventor and Entrepreneur. I am founder of Hexstatic and Holotronica Ltd and also a co-founder of the Big Chill. This site is actually 4 websites in one covering my 4 main creative businesses and projects: Holotronica Ltd , Hexstatic, OOM and Holo-Gauze. You can navigate between each site with the drop down arrow at the top of the page.
WHAT IS HOLO-GAUZE?
Holo-Gauze™ is the latest development in large-scale 3D hologram effects. A patent pending front projection screen that is highly transparent and highly reflective, Holo-Gauze is unique as it works with 3D polarised projection systems and is also widely used as a 2D hologram effect. The gauze screen can be set up in minutes and is extremely light weight and portable, so touring a hologram effect is now very simple and can be scaled to any size – only limited by projector distance. Developed by me, Stuart Warren-Hill, for my Holotronica 3D AV Album shows, Holo-Gauze is now being used for spectacular productions worldwide.
APPLICATION
• Theatre productions
• Club visuals
• Festivals
• Product launches, product reveals
• In-store promotion
• Human holograms, hologram resurrection
• Stadium events and large scale outdoor spectaculars
• Museum installations
• Multi layer 3D effects
• 360 3D immersive 
• Realtime in camera FX for film and television
SET UP
• 2D – Single video projector (but can create a glasses free 3D effect with specific content)
• 3D – Two projectors with polarising filters and glasses
Screen hangs vertically
Can be attached to truss, lighting bar or frame
Front projection only
Video best projected onto the screen at an angle to hide secondary image
Simple set up in minutes not hours
 TECHNICAL SPECIFICATIONS
Transparency                                                  High
Screen Gain                                                     50%
Contrast                                                           High
Colours                                                            Excellent
Viewing Angle                                                High
Acoustic Performance                                  Excellent
Low Frequency Acoustic Vibration           NIL
3D Polarisation Performance                     Very Good
FREQUENTLY ASKED QUESTIONS
Q. How large can the screens be?
A. The material is 5 metres wide seamless and up to 45 Metres long.
Q. Can the screens be stitched together to make any size?
A. Yes a fine seam allows us to create screens to any size.
Q. Is it Front or Rear Projection?
A. The screen is much better as a front projection surface.
Q. How is it hung, Does it require tensioning?
A. The screen is hung vertically and simply tied to a truss with cable ties (zip ties) or bungee straps. Only very light tensioning required.
Q. How much does a screen weigh, is it transportable?
A. Holo-Gauze is very lightweight and easily transportable. A 10m x 5m screen packs into a small shoulder drybag and weighs only 2 kg.
Q. Is the screen durable, how long will it last?
A. The screens will last quite a few uses if looked after. tarnishing of the metallic screen will occur over time if left out in the air for long periods.