×
×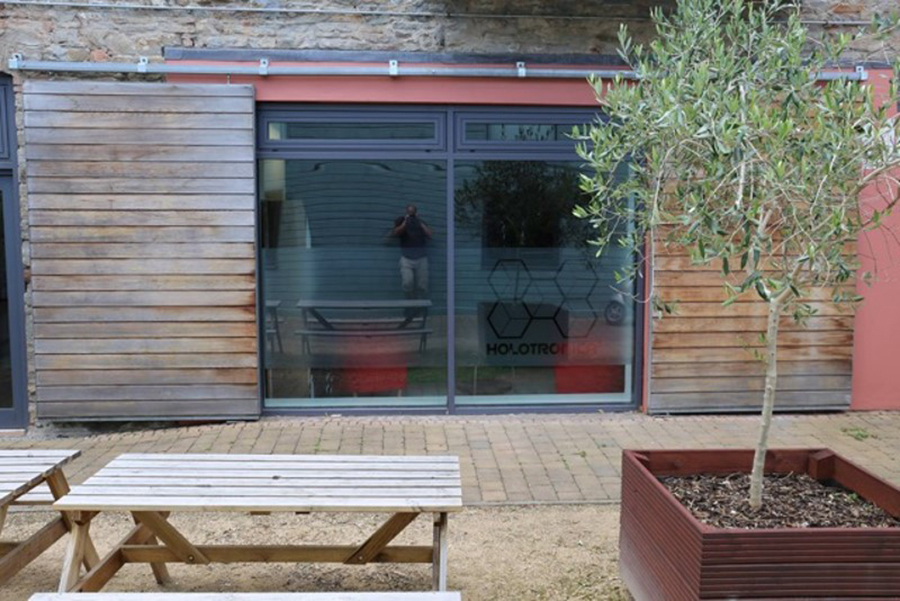 Hello and welcome,
My name is Stuart Warren-Hill, I am an AV Producer, Visual Artist, VJ, Electronic Musician, Inventor and Entrepreneur. I am founder of Hexstatic and Holotronica Ltd and also a co-founder of the Big Chill. This site is actually 4 websites in one covering my 4 main creative businesses and projects: Holotronica Ltd, Hexstatic, Orders of Magnitude (OOM) and Holo-Gauze. You can navigate between each site with the drop down arrow at the top of the page.
HEXSTATIC HISTORY
I founded Hexstatic soon after I met Matt Black from  Coldcut at the first Big Chill at Union Chapel 1994 where I ran the lightshow originally under the name SP Visuals with Pod Bluman. I started working with Coldcut directing a video called 'Atomic Moog 2000' and was Vjing (off VHS) around 1995  and then started the 'Natural Rhythms Trilogy'; an experiment in cut and paste video inspired by the work of EBN and Lucky People Centre. I managed to get a loan from the Princes Trust and purchased my first Apple Power Mac 8100 with a Videovision card installed for editing in Adobe Premier. I began editing video clips in premier like it was a music sequencer using timing markers to mark time in 16th notes per bar.  The trilogy culminated in the award winning 'Timber' now seen as a seminal AV video of the late 1990s. I edited all the parts in Premier painstakingly cut and pasting clips and waiting a long time I remember for the playback to render. Even a simple fade on a 110mghz machine was incredibly slow and laborious. I then took the audio of the loops into Coldcut's studio and we laid down the track with the help of the late producer/engineer Paul Miller. We made sure that the track stayed in the time so I could then re-edit the video in time.
Around this time I met David Byrne and VJ'd for him at the  1998 Lisbon Expo in front of 100,000 people.  I met Robin Brunson at the Channel 5 Launch Party we both had worked on the visuals for. I invited him down to Coldcut's Hex studios and we  both worked together on video for the Let us Play album and after I returned from Coldcut's World Tour in 1998 we began working together on a Hexstatic AV album called 'Rewind' which released in 2000 on Ninjatune's Ntone Label.
I had purchased a rotating satellite dish for the David Byrne show and captured newsreader's broadcasts from around the world, I edited these into an AV track called 'Deadly Media'.  The Album received critical acclaim and our shows were a huge success. Hexstatic released another two albums: 'Master View' in 2005 (that included free 3D anaglyph glasses as the DVD had some 3D versions of the videos) and 'When Robots Go Bad' in 2007.  I created two AV tracks on this album; 'Newtons Cradle' and 'Red Laser Beam'.
Over the years there were also two Exactshit bootleg albums which consisted of the video mashups both myself and Robin had created for the shows.
Hexstatic also did a lot of creative projects for many companies including Sony, Diesel, Nike, BBC, MTV and worked with music artists such as Faithless, George Michael, Coldcut, Tom Middleton and David Byrne.
In 2009 we released Hexstatic – Videos, Remixes and Rarities with some of the Rewind videos remastered and available on DVD Video (original release was CD Rom). This also included the Natural Rhythms Trilogy and also the guerrilla video of a night of unlicensed AV mayhem in London, available in the Ninjatune shop as well as our other releases.
HEXSTATIC FUTURE
Robin and I are not planning to work together on any albums or live performances in the near future. I am concentrating on the Holotronica 3D show and the Holo-Gauze screen creating hologram FX for theatre, tours and large scale events.
I am available for any projects involving cut and paste video, visual music, 3D and Hologram FX and I can be contacted at stuart@hexstatic.tv +44 07743 877960
Robin continues to produce Solid Steel mixes and DJ's under the name Robin Hexstatic.  He can be contacted at robin@hexstatic.tv