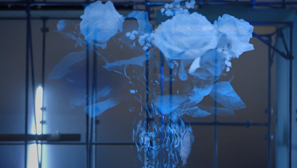 Holo-Gauze features on Channel 4's Gadget Man
Holo-Gauze featured the June 16th 2015 edition of Gadget Man, 'Date Night', after initially wowing the show's producers, who were "hugely impressed" with its effectiveness, both on-set and on-camera. The ingenious, highly transparent metallic gauze was used to create a giant, revolving holographic vase of flowers for series host Richard Ayoade to woo a potential date with. The show was originally set to be broadcast on May 11th, but Channel 4 pushed the new series back a month.
Holo-Gauze is the only gauze able to work with 3D polarised projection systems which use a minimum of two projectors – although it can also produce believable 2D hologram effects using one projector, as was the case for Gadget Man. Holo-Gauze screens can be produced to any dimensions, and hologram sizes are only limited by projector distance and power – assuming the correct lighting is used.
"We were delighted to be asked to participate in Gadget Man," says Holo-Gauze founder and Holotronica MD Stuart Warren-Hill. "Holo-Gauze is ideal for TV producers because it allows for special 3D hologram effects to be incorporated during filming, saving time and money on post-production. Our holographic flower effect certainly enhanced this edition of Gadget Man and I'm pleased that the show's producers were so enthusiastic about what we did for them."
Colin Byrne, producer for this series of Gadget Man adds: "We weren't entirely sure how Holo-Gauze would work during filming given the number of variables we can encounter on set – everything from the shape of the room, to roof fixtures and lighting conditions – but any concerns we had quickly faded away once we saw the amazing effects. We were hugely impressed with how well the holographic effects worked, both on-set and on-camera."
← Back to news