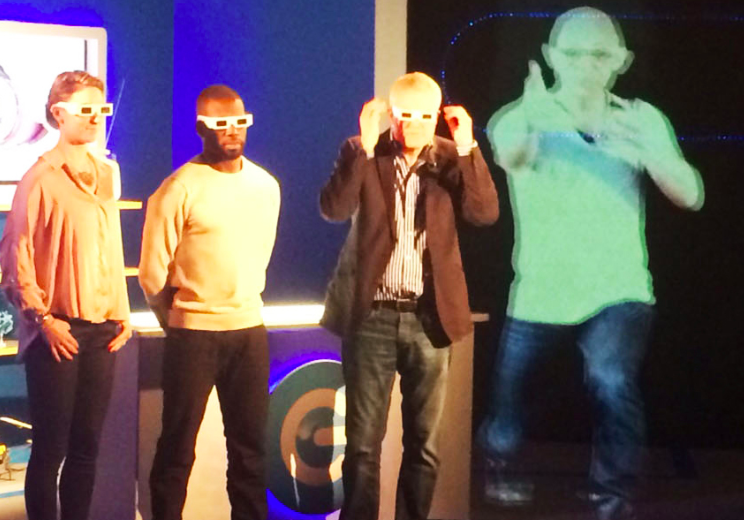 Holo-Gauze creates ultimate 'selfie' for Gadget Show
Holo-Gauze featured during the March 23rd 2015 episode of Channel 5's influential Gadget Show series. The ingenious, highly transparent metallic gauze was employed to realise a 3D 'holographic effect' still image of show host Jason Bradbury as part of the episode's main 'selfie challenge' feature.
The 3D image was created on iPhone using the award-winning Poppy 3D bolt-on device, which converts the smartphone's built-in camera into stereoscopic side-by-side 3D. Later, in the Gadget Show studio, the image was converted into a 3D 'holographic effect' when projected onto a Holo-Gauze polarised projection screen via two projectors with polarising filters. Earlier in the programme, Bradbury was seen interviewing Holo-Gauze founder Stuart Warren-Hill at Bristol's Cube Microplex cinema where he explained and demonstrated how the innovative system works.
As Gadget Show host Jason Bradbury commented during initial tests, on first experiencing himself as a 2D hologram: "Oh yeah, that's amazing! That's so cool!" And he still had the superior 3D polarised holographic effect to come…
"I was delighted to be asked to participate in Gadget Show – something of a personal ambition," says Holo-Gauze founder and Holotronica MD Stuart Warren-Hill. "Holo-Gauze is ideal for TV producers because it allows for special 3D hologram effects to be incorporated during filming, saving time and money on post-production."
Holo-Gauze is widely used for live events, but is proving very popular with TV and film producers as it allows new types of special effects to be created, 'live' and in-shot without the need for expensive post-production. As well the Gadget Show appearance, Holo-Gauze  had a starring role during Channel 4's Gadget Man show.
← Back to news